Before you order one of our houses packages we have a vendor, product specifications, price and detailed scope of work outlined for every single component of each home and option including labor.
This allows you and your customer to easily make selections using the user-friendly Builder Trend platform and know that meanwhile the system is making all the adjustments necessary in real-time to make sure you have a full accounting of your price and costs.
It may feel counterintuitive not to call the trades you have always used and just ask for a quote or an invoice, but BNC has already done all that work for you.
Because BNC has already completed all the procurement and pricing you can now build using approved Purchase Orders that tie directly to your budget allowing you to control your costs in the same way a large national builder would.
We personally select each vendor based on quality of work and pricing. If the vendor fails to perform, we don't keep them in the system so you can always be sure you're getting value for your money.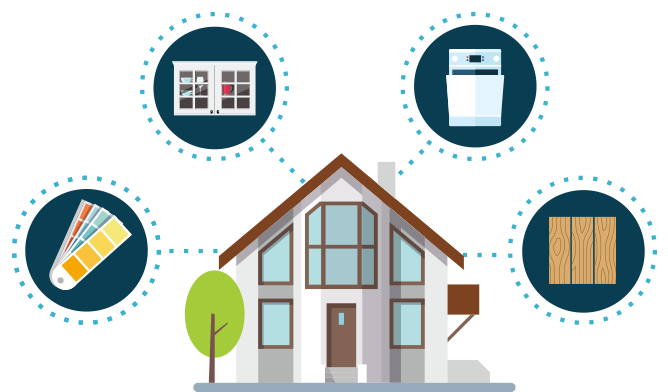 Because approved vendors are getting all of the work from other associated builders in the region and BNC does a lot of the vendors back-office work for them including takeoffs, contracts, scope of work and more your are able to get better prices than you can likely get on your own.
In addition to the value you have better controls with our approved vendors. Because our approved vendors receive a lot of business for a lot of different builders if they don't perform for you, they have a lot more to lose than just your business.
In some disclosed market areas, we do provide limited services without an entire trade list. If you engage to work in one of those areas will immediately notify you.
| | |
| --- | --- |
| Appliances | Ferguson Enterprises, LLC |
| Cabinets, Countertops & Sinks | Bravo Designs |
| Civil Enginneering | Charles P Johnson & Associates |
| Doors (Exterior) | Carter Lumber |
| Doors (Interior) | John H Myers |
| Driveway (Asphalt Paving) | JM Kelley Paving |
| Drywall | HJ. Clemons & Sons, Inc. |
| Dumpsters | ADS Trash |
| Electric | Ercole Electric |
| Fire Safety | Blazeguard |
| Fireplace | Fireside Hearth & Home |
| Fixtures (Plumbing) | Robert A Tull, Inc |
| Flatwork | Foundations First |
| Flooring (Carpet) | Dunn's Floor Covering |
| Flooring (Wood) | Dunn's Floor Covering |
| Foundation | Foundations First |
| Framing Carpenter | Fine Line Trim, Corp |
| Fypon & Trim Details | Carter Lumber |
| Garage Doors | First Choice Garage Doors, Inc. |
| Gutters | DCF- Contracting |
| Home Security | Advanced Wiring Solutions |
| HVAC | Airtron Mid-Atlantic |
| Insulation | DeVere Insulation Company |
| | |
| --- | --- |
| Landscaping | Denison Landscaping |
| Low Voltage Wiring | Advanced Wiring Solutions |
| Lumber (Flooring Systems) | Structural LLC |
| Lumber (Framing & Sheathing) | Carter Lumber |
| Lumber (Roof Trusses) | Structural LLC |
| Masonry (Brick) | Masonry Masters, Inc. |
| Masonry (Stone) | Quality Stone Veneer, Inc. |
| Miscellaneous Hardware | B&K |
| Painting & Stain | Full Colors Painting |
| Plumbing (General) | Robert A. Tull, Inc. |
| Plumbing (Site Allowances) | Robert A. Tull, Inc. |
| Punch Out Work | Eagle Services |
| Railings | Choice Stairways |
| Roof Shingles | Topper Construction |
| Siding | DCF- Contracting |
| Site Preparation | Mid Maryland Excavating, Inc. |
| Stairs | Choice Stairs |
| Steel | Frederick Brick Works, Inc. |
| Tile | M & R Tile |
| Trim Carpentry | Eagle Services |
| Waterproofing & Drain Tile | Frall Foundation Coatings, Inc. |
| Windows | Carter Lumber |